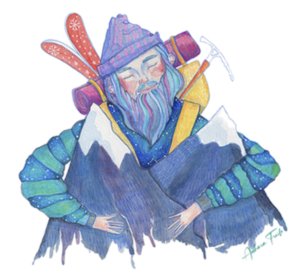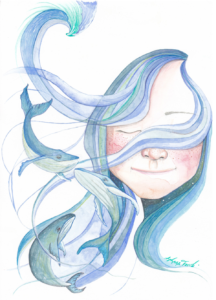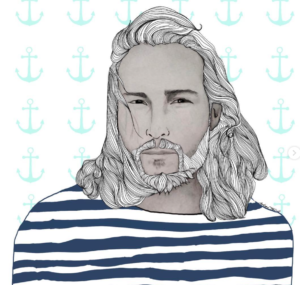 Adhara is a Spanish-born illustrator and plastic artist, in love with the sea and the mountains.
Her art incorporates a variety of techniques. Watercolour fascinates her for its freshness and possibilities. She enjoys fusing and mixing watercolor with different materials and digital processes. Through poetic and emotional portraits, she creates a world in which she invites you to discover the hidden spaces behind each illustration. Her drawings are a search for dialogue, a back-and-forth journey between the real and the magical, the interior and the exterior realms.
She sees her life, with all its joys and conflicts, as the source of her inspiration. Her universe is grounded in nature, inner wellbeing, and the challenges of womanhood. Through her work, she shows the need to capture the mystery of emotions, thoughts, experiences, and sensations that speak of both fragility and strength.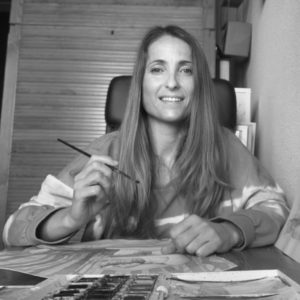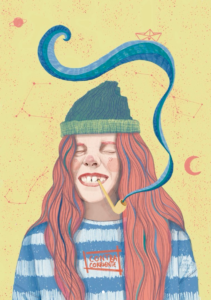 Born in Spain in 1985, Adhara grew up in the north and south, between Cantabria and Gibraltar, the ocean and the mountains, the water and the snow. Her parents named her after a bright shining star of a far-off constellation. Van Gogh's "Starry night" moved her big time when she was younger. The color purple became nearly an obsession for some time. Nowadays she loves indigo blue and fantasizes about traveling on a train again.
Educated in the art of sculpture at the art school la Escuela de Arte Dionisio Ortiz in Cordoba, she later continued to deepen her knowledge of art techniques at Escuela de restauración Centro Albayzín de Granda, in Granada. She graduated from the University of Granada in 2015 with a degree in fine arts and completed a year of academic courses focused on art in Poznan, Poland. She also held an internship at the National Museum of Bargello located in Florence. Adhara currently lives her life in Madrid, Spain, where she holds a position as Master of Editing and Publicity.
You can find her art on her website www.adharafreile.com or through her Instagram @adharafreile. Feel free to purchase a piece for yourself or contact her for other projects.